Trails, Trails, Trails… Iron County's rich history and resources are showcased by an extensive trail network. Snowmobile Trails, Mountain Bike Trails, Ski Trails, ATV Trails and Auto Trails allow you to experience the wilderness, settlements and mystic beauty of Northern Wisconsin, no matter what your mode of transportation might be. Enjoy'em!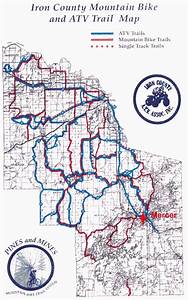 Iron County supports Wisconsin's largest ATV trail system. Over 100 miles of picturesque and challenging trails invite ATVer's to explore this region. Mercer boasts many scenic routes and trails. Riders may also choose to take trail 51 North-leading them through Pine Lake to Hurley. Continuing on Trail 77 will bring you through Pence and then on to Upson to view the Potato River Falls. Then you can take Trail 2, (known as the Iron Horse Trail) riders will have a chance to view the spectacular Rock Cut Gorge. Continue on through the town of Saxon and on to Saxon Harbor on the shores of Lake Superior.
Riding south on Trail 51 from the Mercer area connecting to Route 21 in Manitowish will lead riders to a view of the beautiful Flambeau Flowage. Excellent lodging and dining can be found throughout the Mercer area.
Along the routes you will find a variety of friendly pit-stops offering food, beverages, gas and lodging. During the Winter, ATVs are welcome on designated Iron County Snowmobile trails.
The Pines and Mines Mountain Bike Trail System offers 300 miles of marked and mapped mountain biking opportunities in the abundant public lands of Iron County and the Nearby Ottawa National Forest. Trails incorporate many of the country's historic transportation, mining, and lumbering sites, as well as, plenty of forests, lakes, and waterfalls.