Cross Country & Downhill Skiing
Enjoy winter family fun in Mercer, where there is something for all ages to experience.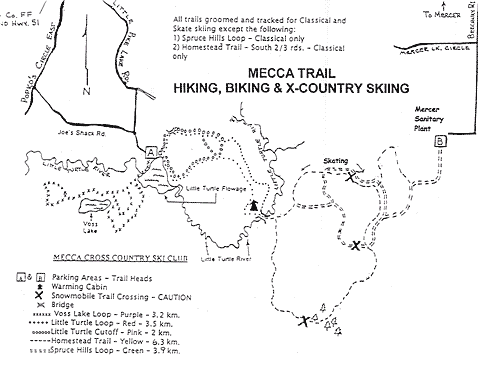 Experience the Mecca Trails near Mercer, with the rolling terrain, vistas of the Little Turtle River & Flowage and a variety of vegetation from aspen to pine plantation. They offer an annual moonlight (candle lit) ski. The Cedar Trail in Gurney follows ravines and plateaus to Lake Superior…watch out for the deer!
Discover Iron County's excellent cross country ski trails–groomed and track set by clubs and volunteers. The Montreal Trails pass by the remnants of the Montreal Mining operation and provide a variety of options to ski the right distance and difficulty for your ability. For the ultimate in scenic beauty and challenging skiing, the Uller Trail surpasses all others, winding through the Penokee Range for 19 miles to Hurley. If you don't want to ski the whole trail, try the spur trails for a taste of the scenery, without the distance.
NORDIC SKI & HIKING TRAILS
MECCA is a non-motorized multi-use trail system. In winter the trails are groomed for classical and skate skiing, as well as foot trails for snowshoeing. The terrain is suited for both beginners and advanced skiers and there is a cozy log cabin shelter and privy. Watch for the annual moonlight ski in January.
Hikers and mountain bikers will find wildlife watching an added amenity to the beautiful vistas of the Little Turtle River and Flowage. The varied habitat, from open wetlands to aspen and pine plantations, offers an exhilarating and peaceful encounter with nature.
Mecca Trail System Cross Country Skiing Map
Cross Country Skiing in Mercer Wisconsin MECCA trail system can be accessed at either of two trailheads. Take Hwy. 51 to FF to Popko Cr. E. to Joe's Shack Rd, or Hwy. 51 to Beachway Dr. to Mercer Lake Cir. towards the sanitary district.
The Turtle Trail is approximately 4 miles of beautiful woods. Experience a trail that meanders along the shores of the Turtle Flambeau Flowage over a beaver pond and along the old logging trails. Located 15 miles west of Hwy. 51. Turn left on O'Meara Road and travel 1 mile to the entrance of the cross country trail.
Iron County and the surrounding areas offer many more trails for skiing and hiking; come explore the beauty of the Northwoods!
Big Snow Country
Iron County lies in the heart of Big Snow Country, with mountains of the most dependable, fluffy, white snow you can find in the Midwest. Four major downhill ski areas lie in Big Snow Country, with Wisconsin's largest downhill ski area, Whitecap Mountains, right here in Iron County. Other Big Snow Country ski areas; Big Powderhorn Mountain, Blackjack Mountain and Indianhead Mountain are located within 10 miles of the Iron County border in Michigan.